StrongMill - curved treadmill
StrongMill - curved treadmill
4 240 points to the loyalty system
---
Unique cardio machine that makes your fitness exceptional
Be the first one and leave your competitors behind you. Try to offer your clients something great. New and technically innovative StrongMill treadmill. It brings a completely new look with great features. This cardio treadmill is without motor. All movements such as running or walking are made by degree of body incline, the frequency and length of steps. These activities provide necessary impulse to move the treadmill. You will get real feeling and benefits of outdoor running. Do you still hesitate to buy it? Read the 6 main reasons why you need to have this cardio machine in your fitness center and order it now.
6 reasons why StrongMill is a must-have in your gym:
StrongMill changes the existing conventions and brings a new attribute to running.
Used by top athletes and sport centers - The non-motorized treadmill is self-propelled and have benefits of outdoor training = It stimulates real conditions and offer unlimited speed. For this reason, it has been an integral part of sport laboratories that monitor the athletic performance.
Burn more calories with non-motorized treadmill - It is scientifically proven that you will burn more calories on the curved treadmill than on the motorized treadmill. The one of the newest studies has shown a 44 % increase in burning calories. Achieve your dream body faster.
With one cardio machine you can improve speed, strength and endurance - In addition to classic aerobic training aimed to endurance and cardio-respiratory functions. It offers speed and strength development. You can strengthen the whole body in all ways. Current scientific research demonstrates strong links between changes in physiological functions on a curved treadmill and outdoor running.
Easy to maintenance and friendly to your wallet - The StrongMill is completely self-powered, so you do not need a motor and electric energy. There are not problems with motor such as with motorized treadmill. The special rubberized surface of the plate resists 150,000 km without a single change.
Running Technique and Rehabilitation - Special ergonomics of curved treadmill support technically correct variation of the run on one's toes. The finger toes impact on the curved part of the treadmill faster than the rest of foot. The big bonus is strengthening longitudinal arch. During this training you better activate hamstrings and core muscles.
Perfect and inimitable design - Now is everything possible. The great construction consists of aluminum plates, mechanical flywheel, adjustable legs and many others components that ensure long life time.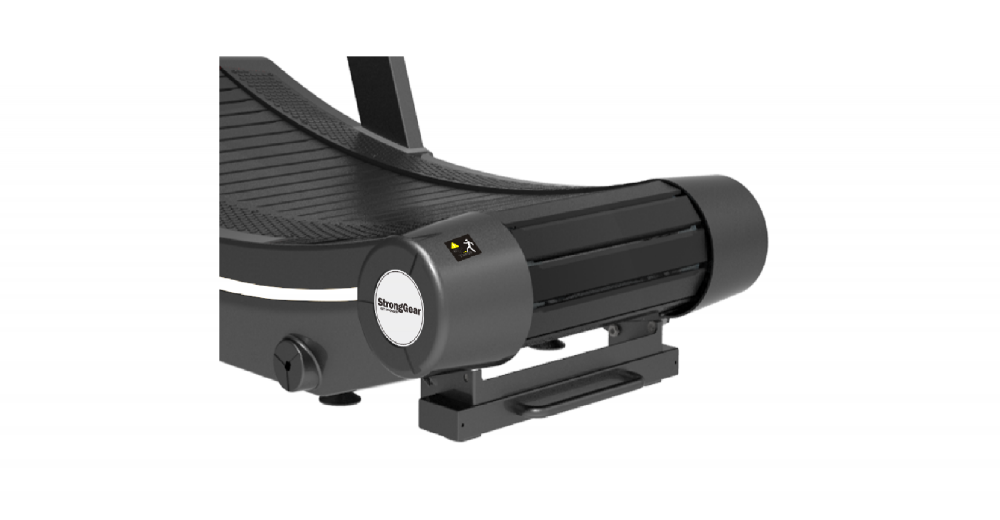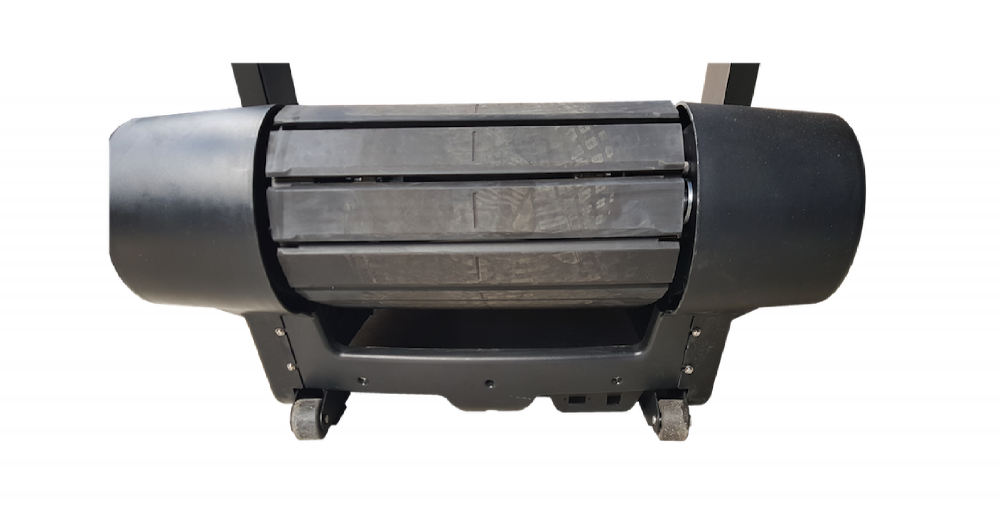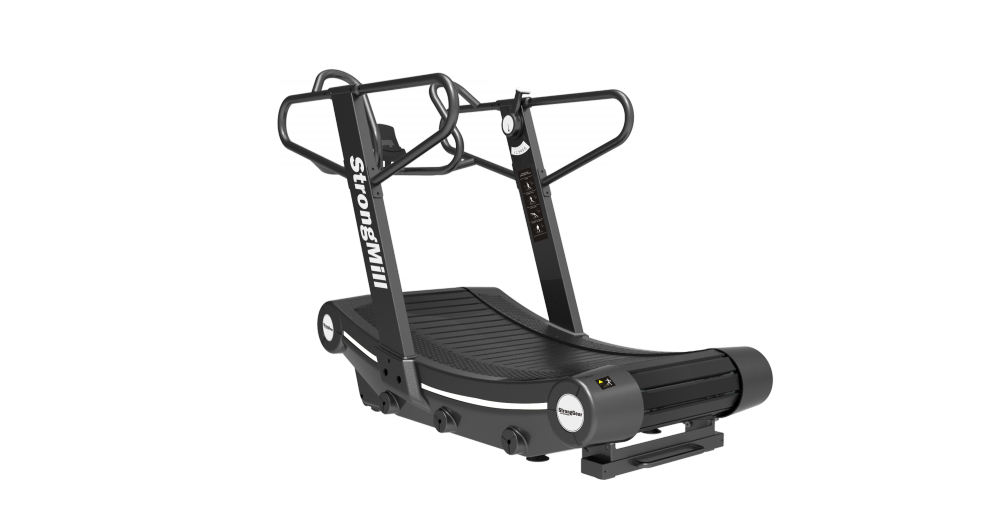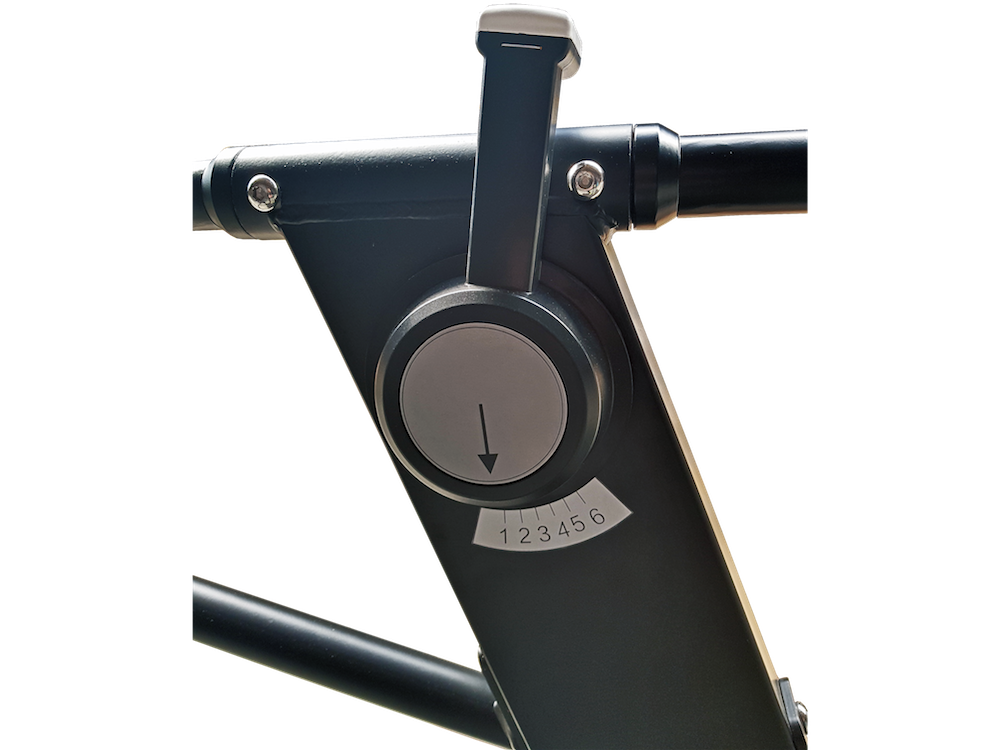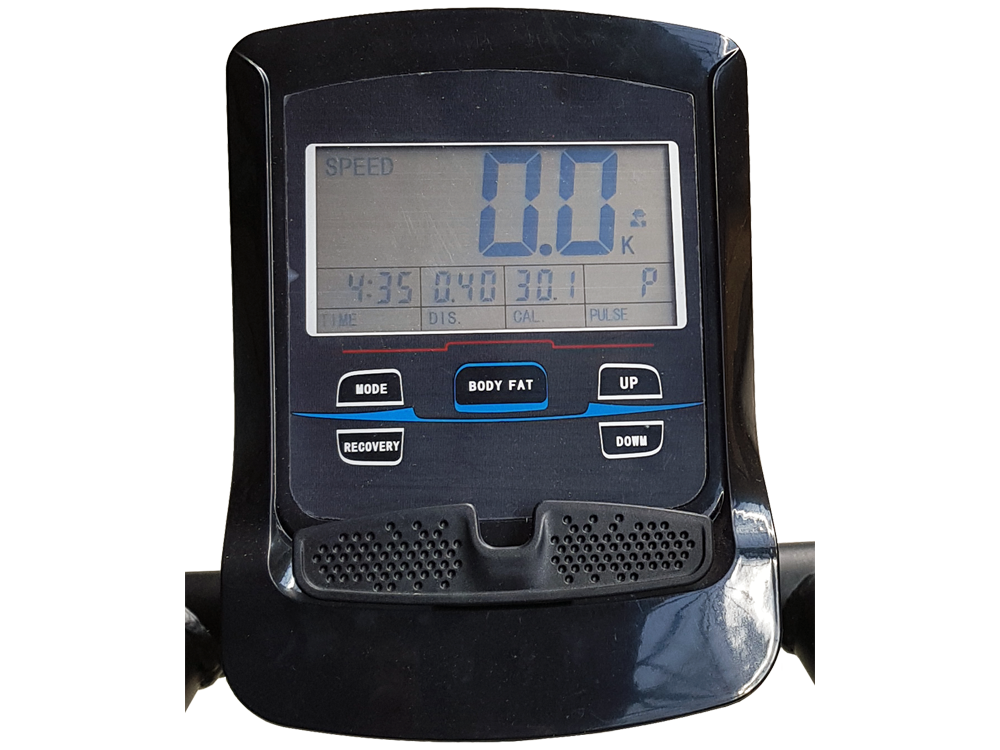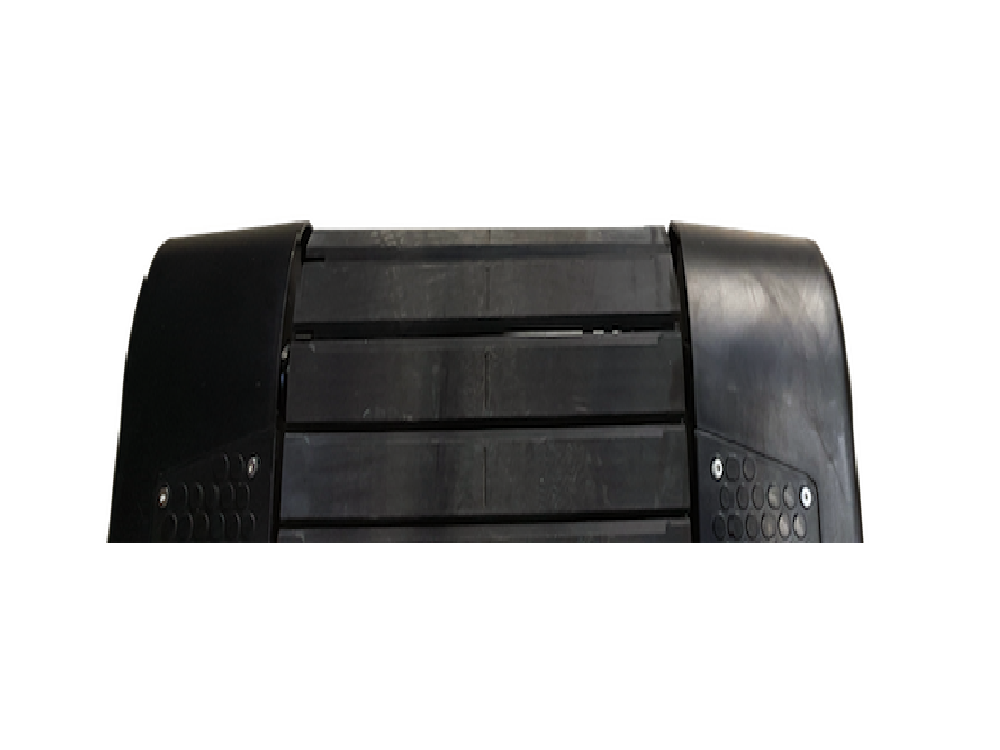 How does StrongMill works?
The treadmill can be without a motor! 60 profiled aluminum plates slide without friction on ball bearings. Running speed depends only on you and your power. Everything is about locomotion of the body. You have to do active steps with body incline. It is time to become better runner.
Mechanical flywheel: Non-motorized belts without flywheel inhibit speed. Running on the StrongMill will remind you of outdoor running. We added to our product flywheel. Running and walking are more natural even at high speed. The flywheel never slows you down but it helps you to reach maximum speed. At the same time, it allows you to choose from 6 type of resistance.
Roller guides: 12 roller guides ensure an extremely precise and fast belt slide. The maximal lateral tolerance is about 4 mm. Running is very smooth. The entire drive system is based on minimizing the differences between the inside and outside. Our StrongMill minimize the differences between the treadmill and outdoor running.
Training programs
When you are creating training program you can choose between speed, endurance or strength training or combination of all. An important thing is previous knowledge of running and walking techniques because everybody want effective training with results. Do not be afraid to include StrongMill into your running training.
Developing endurance: Endurance can be effectively developed in two ways: a continuous or interval method. Both can be practiced with our treadmill. Trust us that regular training will prepare you for all challenges.
Developing speed: Normal treadmill has one big limit, it is speed (they are limited). It never happens with our StrongMill as there is no speed limit. Run as fast as you can.
Developing strength: Strength is a basic ability that is really important for sport activity. It has an impact on the whole body. With our StrongMill you can choose a sledge variant. It is a mode that is primarily focused on legs.
100% Satisfaction Guarantee
You can return for FREE all goods until 30 days without giving reason. This means that we pick up the goods that you want to return at your place for free and return the money to your account within 3 days after returning the goods. You need only to write an email to info@stronggear.eu or call +420 777 670 947. The goods must be properly packed to avoid any damage during transportation and must in the same condition. We are not a rental. The guarantee is there for trying the equipment, not for its repeated use.
Parameters
| | |
| --- | --- |
| Colour | Black |
| Running surface | 170 x 47 cm |
| Length | 208 cm |
| Maximal speed | Unlimited speed |
| Drive mechanism | Non-motorized treadmill without flywheel, 12 roller guides with 112 precision ball bearings |
| Adjust amount of Drag for Any Ability | Manually, resistance: 1 - 6 |
| Power Supply | Not required |
| Max load | 180 kg |
| Resistance surface | Profiled lamellas coated by rubber, Lifetime of lamellas is 150 000 km |
| Computer | Yes |
| Drive motor | Self-Propelled |
| Width | 90 cm |
| Easy to storage and transport | Yes, Handle for easy transport |
| Type of treadmill | 60 pieces of aluminum profiled lamellas, Curve treadmill |
| Weight | 190 kg |
| Height | 145 cm |