Sale
35 points to the loyalty system
---
StrongGear Hi Temp bumper plates are not ordinary bumper plates. Processing in a high temperature gives them special qualities over the standard bumpers. More
Manufacturer: StrongGear Product code: P00017 Shipping and Payment
from 28,98 € incl. VAT
StrongGear Hi Temp bumper plates are not ordinary bumper plates. Processing in a high temperature gives them special qualities over the standard bumpers. More
Manufacturer: StrongGear Product code: P00017 Shipping and Payment
We introduce the Hi Temp StrongGear Bumper Plates
This material mixture gives extraordinary features to our Hi Temp plates. They are great for noise and bumps dampening, making them perfect for elevated gyms where there are noise restrictions or for the outside as the material is super resistant. The material mixture remains very compact making these Hi Temp Bumper plates nearly as thin as the StrongGear "ordinary" Bumper plates.
Hi temp Bumper plates are also appropriate for outside centres because they resist high weather conditions as well as low temperature, humidity and sunshine.
StrongGear Hi Temp bumper Plates in details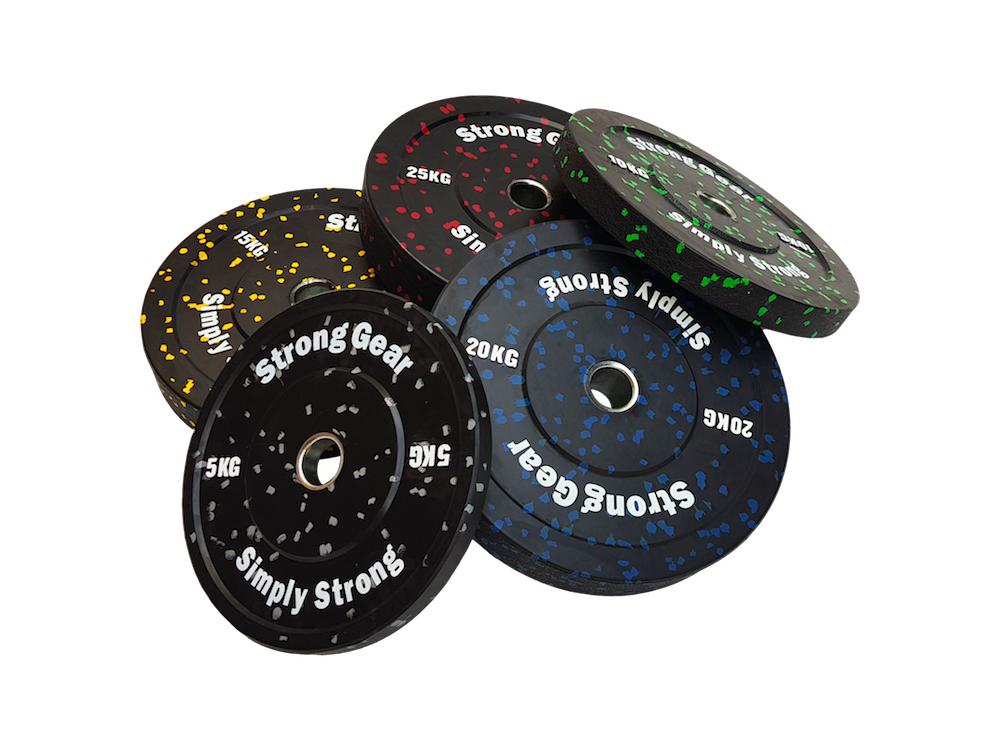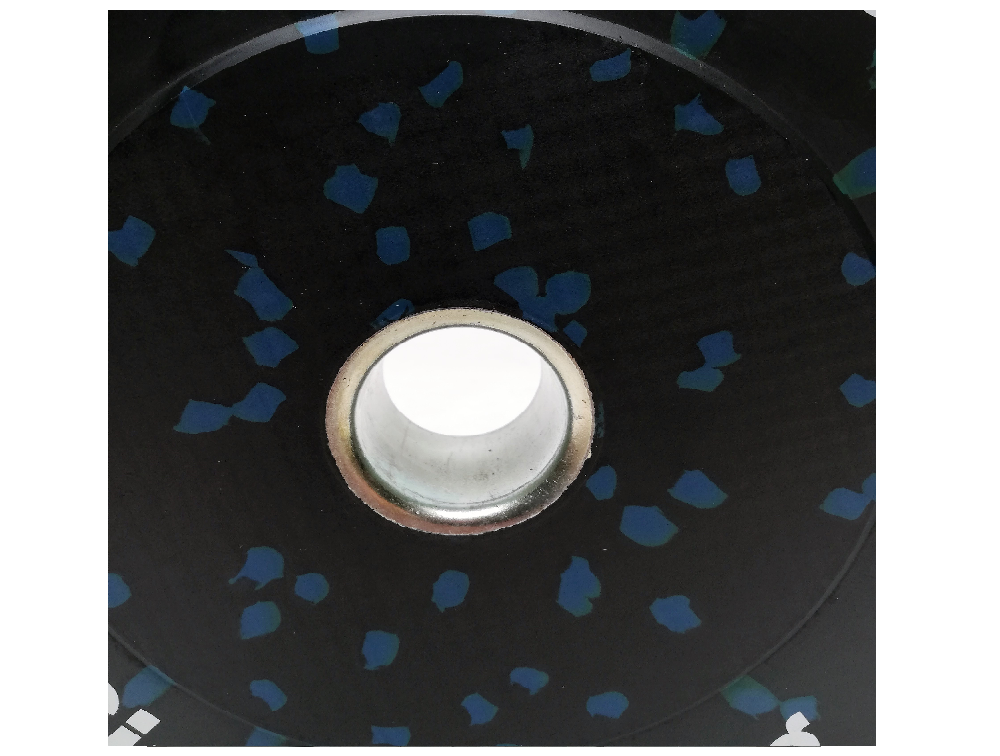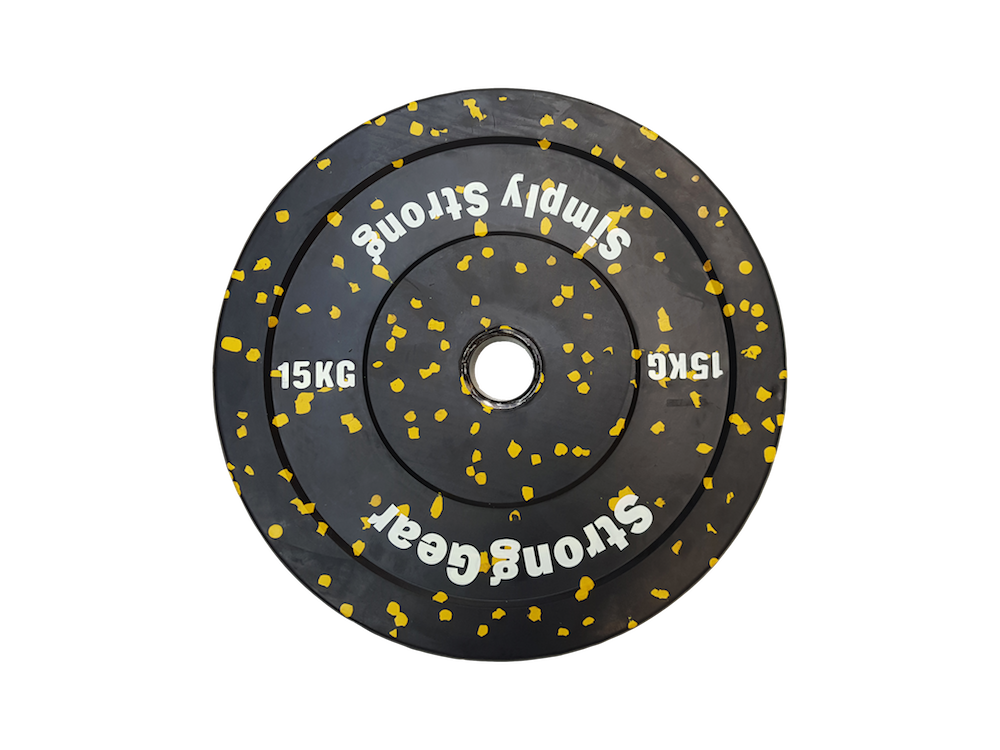 Train everywhere
Hi Temp bumper plates are suitable for indoor and outdoor training. They are resistant against high and low temperatures, high air humidity or the sunshine. The plates are good for any weather conditions.
Weight tolerance max. 0,5 %
All our plates are perfectly balanced the maximum possible irregularity is 0.5%. You lift exactly the same weight that is marked on the plate.
High quality rubber
Plates are made of top-quality rubber and with only the best thickeners. There is no plastic (PVC).
Extremely durable
Our 10, 15, 20 and 25 kg plates are tested for 25 000 drops and 5 kg plates endure minimally 1 000 landings.
10, 15, 20 and 25 kg plates are tested for 25 000 landings from 250 cm height onto a 2 cm thick rubber. 5 kg plates endure 1 000 landings minimum.
Extraordinary 5 kg plates
5 kg StrongGear Hi Temp Bumper plates have their outer diameter 400 mm making them more durable.
This smaller diameter has also another advantage. Imagine a fully loaded Olympic bar where the 5 kg plates are on the edge. If the fully loaded bar hits the ground unevenly all the weight is absorbed only by that one thin 5 kg plate on the edge of the sleeve (if this plate would be the same size as the other) and most likely this 5 kg plate would get damaged.
With our Hi Temp 5 kg plates on the edge of the sleeves you can throw the bar as you like because our 5 kg plates are a little smaller than the others. 
100% Satisfaction Guarantee
All goods can be returned FREE of charge within 30 days after purchase without giving reason. This means that we pick up the goods that you want to return at your place for free and return the money to your account within 3 days after returning the goods. You only need to write an email to info@stronggear.eu or call +420 777 670 947. The goods must be properly packed to avoid any damage during transportation and must be in the same condition as they were during packaging at our warehouse. We are not a rental. The guarantee is there for trying the equipment, not for its repeated use.
Parameters
| | |
| --- | --- |
| Colour | 5 kg - black - gray, 10 kg - black - green, 15 kg - black - yellow, 20 kg - black - blue, 25 kg - black - red |
| The price information | The price includes one piece of plate. |
| Material | Steel ring - specail rubber |
| Plate diameter | 5 kg - 40 cm, 10 kg - 45 cm, 15 kg - 45 cm, 20 kg - 45 cm, 25 kg - 45 cm |
| Hole diameter | Olympic 50 mm (50,4 mm) |
| Plate Width | 5 kg - 30 mm, 10 kg - 46 mm, 15 kg - 67 mm, 20 kg - 75 mm, 25 kg - 85 mm |
| Plate type | For training |
| Weight | 5 kg, 10 kg, 15 kg, 20 kg, 25 kg |
Alternative products (3)


In stock
from
73,26 €
99 €
from
61,56 €
excl. VAT

Sold out
from
38,90 €
from
32,69 €
excl. VAT


In stock
from
23,99 €
36,90 €
from
20,16 €
excl. VAT