Colored Rubber Fractional Plates
- Weight: 0,5 kg
Colored Rubber Fractional Plates
- Weight: 0,5 kg
SALE -20%
7 points to the loyalty system
---
Light-weight fractional plates (0,5 kg, 1 kg, 1,25 kg a 2,5 kg), steel core, coated by powder paint, calibrated with a sleeve hole of 50 mm. Good for progressive increase of weight on the bar. More
Manufacturer: StrongGear Product code: P00328-1 Shipping and Payment
Original price 9,40 €. Save 20% (1,88 €) 7,52 € incl. VAT
Light-weight fractional plates (0,5 kg, 1 kg, 1,25 kg a 2,5 kg), steel core, coated by powder paint, calibrated with a sleeve hole of 50 mm. Good for progressive increase of weight on the bar. More
Manufacturer: StrongGear Product code: P00328-1 Shipping and Payment
Plates designed for gradual weight gain
The Olympic fractional plates are made of steel and they are a very important part of gyms as they allow to individuals to overcome strength barriers. Regular training program leads to body strengthening. From time to time the athletes get into a phase of stagnation. If you want to improve continuously you need fractional plates and overload progressively. They are much lighter and smaller than the ordinary ones and they allow you to change the weight in grams. The individual plates are color-coded, corresponding to their weight. At the same time, the StrongGear logo and weight are very well marked on the surface. You cannot make a mistake between weight variants. They have a center hole with Olympic diameter 50 mm, so they are suitable for all types of Olympic barbells. These fractional plates you can use in preparation for international competitions because they meet the necessary standards of the IWF Federation. It applies to dimensions, color and weight. Manipulation with plates is really fast and easy.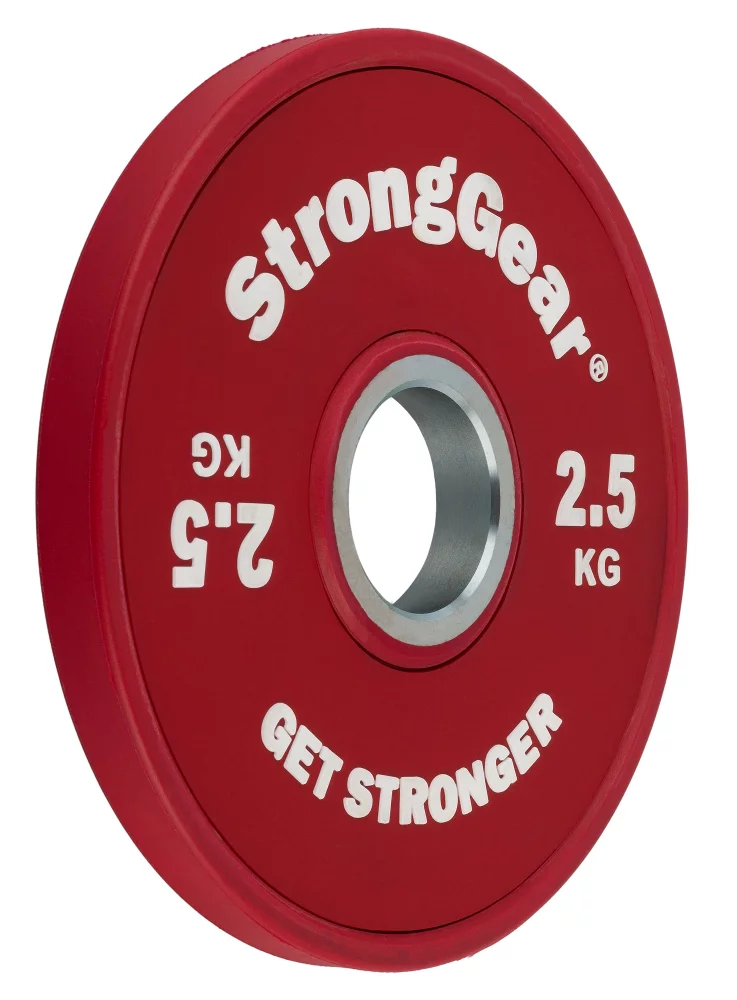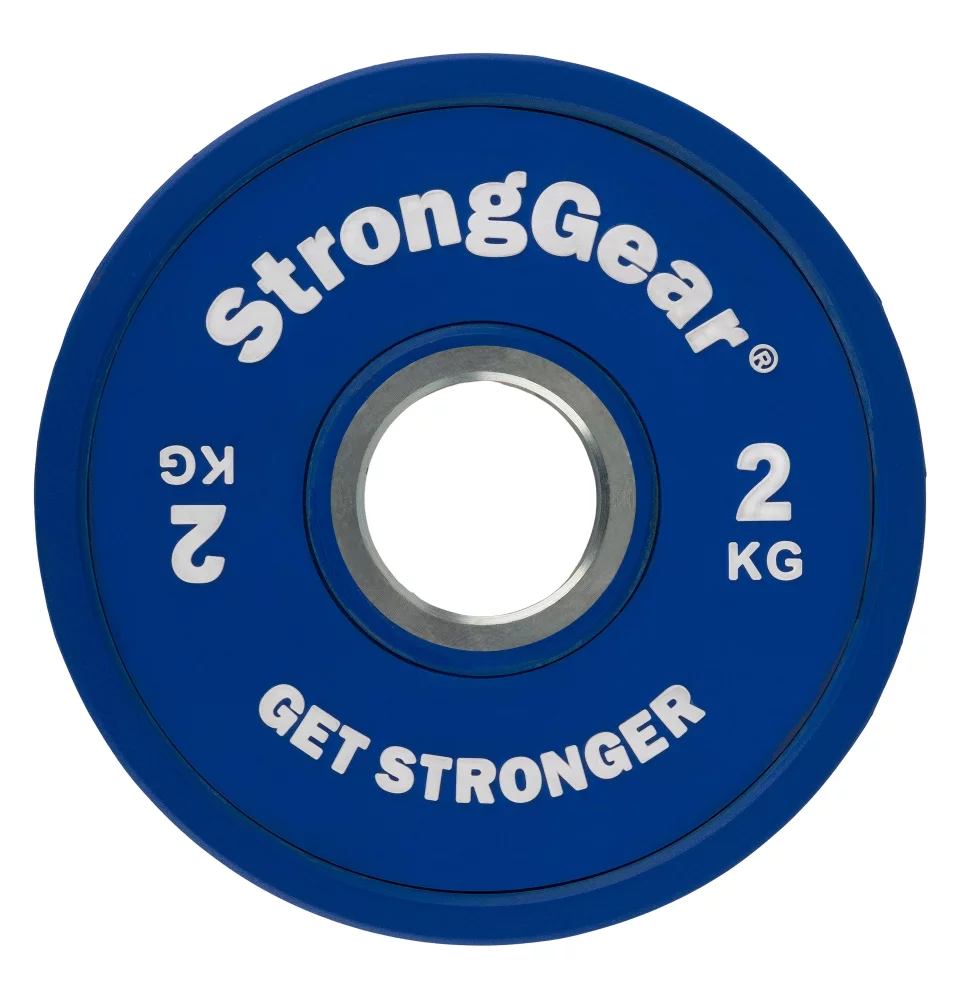 Long life time
Every gym owner wants the best quality product which can stand hard-handling. It was one of our conditions before production. 
Low weight
Fractional plates are made in low weights (0.5 kg, 1 kg, 1.25 kg and 2.5 kg). It allows you to break personal limits every training. 
100% Satisfaction Guarantee
All goods can be returned FREE of charge within 30 days after purchase without giving reason. This means that we pick up the goods that you want to return at your place for free and return the money to your account within 3 days after returning the goods. You only need to write an email to info@stronggear.eu or call +420 777 670 947. The goods must be properly packed to avoid any damage during transportation and must be in the same condition as they were during packaging at our warehouse. We are not a rental. The guarantee is there for trying the equipment, not for its repeated use.
Parameters
| | |
| --- | --- |
| Colour | 0,5 kg - white, 1 kg - green, 1, 25 kg - black, 1, 5 kg - yellow, 2 kg - blue, 2,5 kg - red, 0,25 kg - red |
| Price information | The price includes one piece of plate., 17,5 kg set include 2 pieces of: 0,5, 1, 1,25, 1,5, 2 and 2,5 kg |
| Material | Steel ring - the highest quality rubber |
| Mechanically calibrated | Yes |
| Plate diameter | 0,5 kg - 13,2 cm, 1 kg - 17 cm, 1,25 kg - 17,8 cm, 1,5 kg - 18,1 cm, 2 kg - 19 cm, 2,5 kg - 21 cm |
| Hole diameter | Olympic 50 mm (50,4 mm) |
| Plate Width | 0,5 kg - 14 mm, 1 kg - 15 mm, 1,25 kg - 19 mm, 1,5 kg - 18 mm, 2 kg - 19 mm, 2,5 kg - 19 mm |
| Plate type | To compete, Powerlifting |
| Weight | 0,5 kg, 1 kg, 1,25 kg, 1,5 kg, 2 kg, 2,5 kg |
Alternative products (3)
In stock
from
6,72 €
8,40 €
from
5,65 €
excl. VAT
In stock
from
23,99 €
36,90 €
from
20,16 €
excl. VAT
Sold out
from
73,26 €
99 €
from
61,56 €
excl. VAT