228 Punkte für das Treusystem
---
Hex Trap Bar RS differs from most trap bars by its generous inside size, perfectly done volcano knurling and by rotating sleeves with bearings. Mehr
Hersteller: StrongGear Produktkode: P00314 Versand und Zahlung
Hex Trap Bar RS differs from most trap bars by its generous inside size, perfectly done volcano knurling and by rotating sleeves with bearings. Mehr
Hersteller: StrongGear Produktkode: P00314 Versand und Zahlung
We introduce you our StrongGear Hex Trap Bar
Are you ready to meet a bar which helps you to get physical and psychical strength and also helps you to build muscular good-shaped body? Meet our StrongGear Hex Trap Bar.
Ideal bar for both beginners and advanced
Beginners can have problems to get in the right position caused by low flexibility. You can avoid this with Hex Trap Bar thanks to special elevated grip (handle). So, you do not need to lean so much. The technique will become easily manageable. It becomes easier to hold your chest up and have your back straightened. Change of exercise is very important in training and that's it why even advanced weightlifters appreciate this trap bar.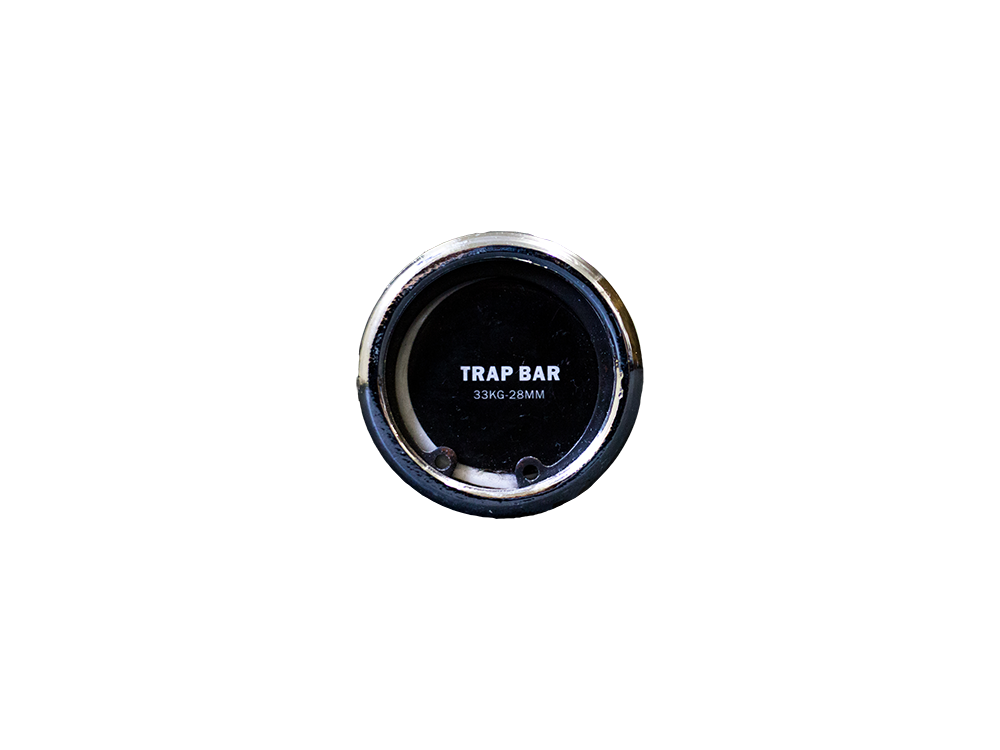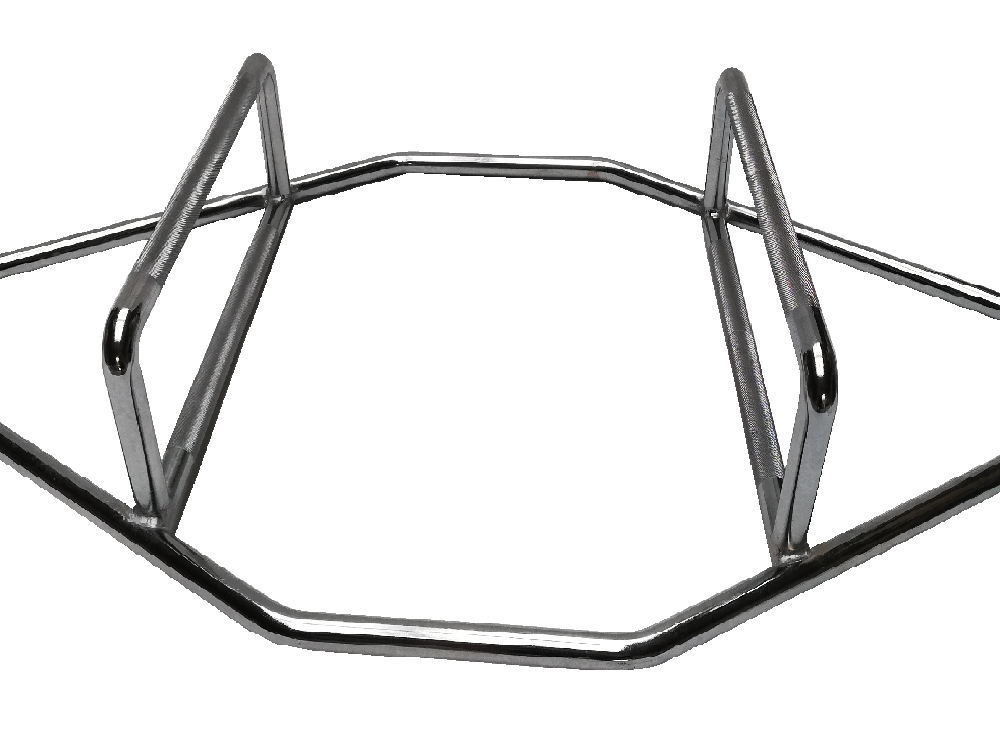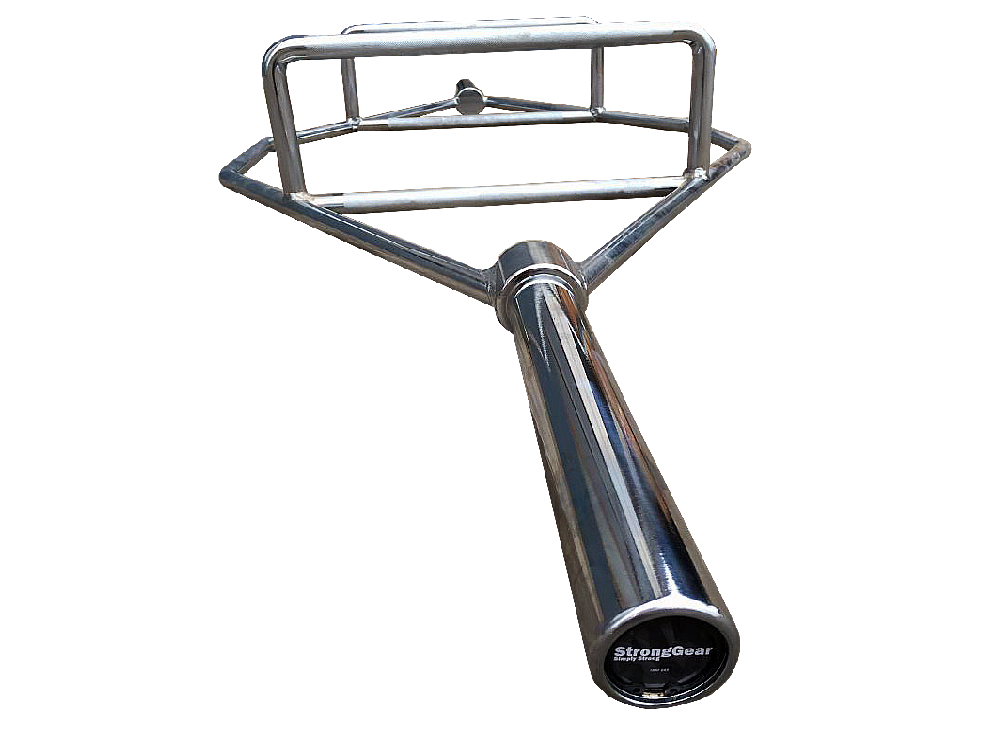 Load capacity 400 kg
This can be used by everyone, from the beginners to the strongest men.
Universal measure
Thanks to its size it is also ideal for the largest and most powerful lifters.
Olympic diameter of sleeves
With 50 mm diameter you can load all standards Olympic plates. You do not have to buy any new or special plates for this type of diameter.
The grip thickness of 28 mm
Is the same as for other classic bars. We insisted that the grip thickness would not be wider. We have achieved this by using the best possible steel.
We think about your health and improve your strength and condition
Did you ever thing about benefits of deadlift? Or have you been afraid of this exercise? Deadlifting is not only for athletes and weightlifters. Our StrongGear Hex trap bar will help you start with this complex exercise. Training with Hex trap bar is much safer and easier.
Your lower back is safe
If you perform deadlifts with trap bar you stand INSIDE the bar, which is TOTALY different. With a straight bar, you have to lean a lot and do pronation in your shoulders. With the trap bar you just need to grab the bar and you can start to lift without overloading the spine.
You lift more weight
With the trap bar you use physical mechanic benefits. Because you stand in the centre of the bar the centre of gravity of your body is copying the centre of gravity of the bar. That is why you will be able to lift much more weight than with a straight bar.
Enhance the technique
Dead lift is a technically demanding exercise. While exercising you can come across many problems. Thanks to our hex trap bar, you can prevent them. It is "born" for deadlifting.
Safety first
The Hex trap bar makes technique easier for beginners. It keeps the centre of gravity in line with the shoulders and does not force the athlete to move forward and bend.
100% Satisfaction Guarantee
You can return for FREE all goods until 30 days without giving reason. This means that we pick up the goods that you want to return at your place for free and return the money to your account within 3 days after returning the goods. You need only to write an email to info@stronggear.eu or call +420 777 670 947. The goods must be properly packed to avoid any damage during transportation and must in the same condition. We are not a rental. The guarantee is there for trying the equipment, not for its repeated use.
Parameter
| | |
| --- | --- |
| Länge | 142 cm |
| Sleevelänge | 27,5 cm |
| Grifflänge | 31 cm |
| Lagern | Bronzebuchsen, 2 needle bearing |
| Max Tragkraft | 320 kg |
| Anwendung | Zusätzliche Übungen |
| Sleeveoberflächenfinish | Chrome |
| Griffoberflächenfinish | Chrome |
| Sleevediameter | 50 mm |
| Griff Diameter | 28 mm |
| Rozpětí úchopů | 55 cm |
| Hantelstangetyp | Special |
| Gewicht | 22 kg |
Alternative Produkte (3)
Schnelle Informationen
Neu


Auf Lager
288 €
242,02 €
ohne MwSt.


Auf Lager
268 €
225,21 €
ohne MwSt.
Schnelle Informationen
Ausverkauf -28%


Auf Lager
142,95 €
199 €
120,13 €
ohne MwSt.