Coloured Bumper Plates
- Gewicht: 5 kg
Coloured Bumper Plates
- Gewicht: 5 kg
VERKAUF -30%
27 Punkte für das Treusystem
---
Where other bumper plates end, there StrongGear bumper plates just start to warm up. Mehr
Hersteller: StrongGear Produktkode: P00015-1 Versand und Zahlung
Ursprünglicher Preis 39,80 €. Bezahlen 30% (11,94 €) 27,86 € mit MwSt.
Where other bumper plates end StrongGear bumper plates start to warm up
Common bumper plates are made of recycled rubber and poor-quality plastic mixtures. Those bumper plates can take only 3 000 – 15 000 impacts. Market is full of these cheap poor-quality plates.
Unfortunately, you can see it in most of the fitness centres. The plates centres begin to fall, plates start to bend, and over time they begin to fall apart. Fitness owners forbid people from throwing their bars loaded with such plates and unknowingly discourage clients and lose lots of money. 
Discover StrongGear bumper plates – the most durable bumper plates
StrongGear bumper plates are made of top-quality rubber and thickeners. So, we produce very hard, compact and even magically durable bumper plates. Even 5 kg StrongGear bumper plates endure several thousand drops. Other brands cannot do this – you cannot drop the barbell with ordinary 5 kg plates at all.
10, 15, 20 and 25 kg plates are tested for 30 000 drops from 250 cm height to 2 cm thick rubber. 5 kg plates endure minimally 5 000 landings (behind 5 kg plates cannot be loaded other plates with smaller outer diameter than 45 cm - p. e. small 2,5 or 1,25 kg plates).
Top-quality thickeners assure a compact mixture which does not crumble. So, the inner steel rings do not fall out.
StrongGear bumper plates in details
StrongGear coloured bumper plates guarantee first quality and they will satisfy all your gym clients. Connect your name with our brand and bet on uncompromising quality products.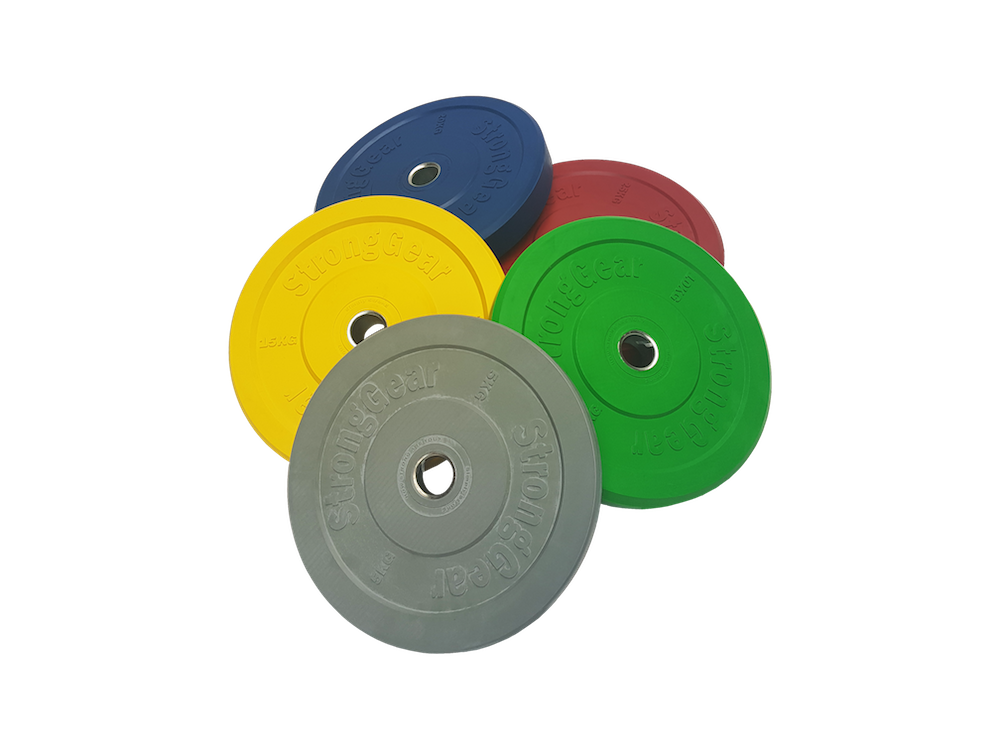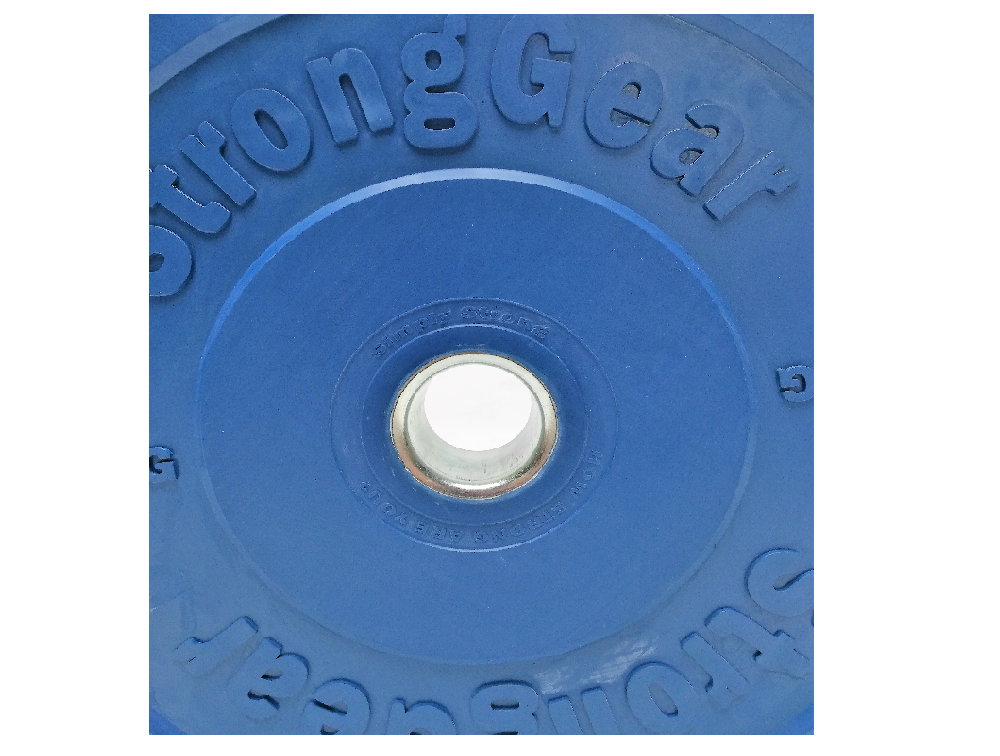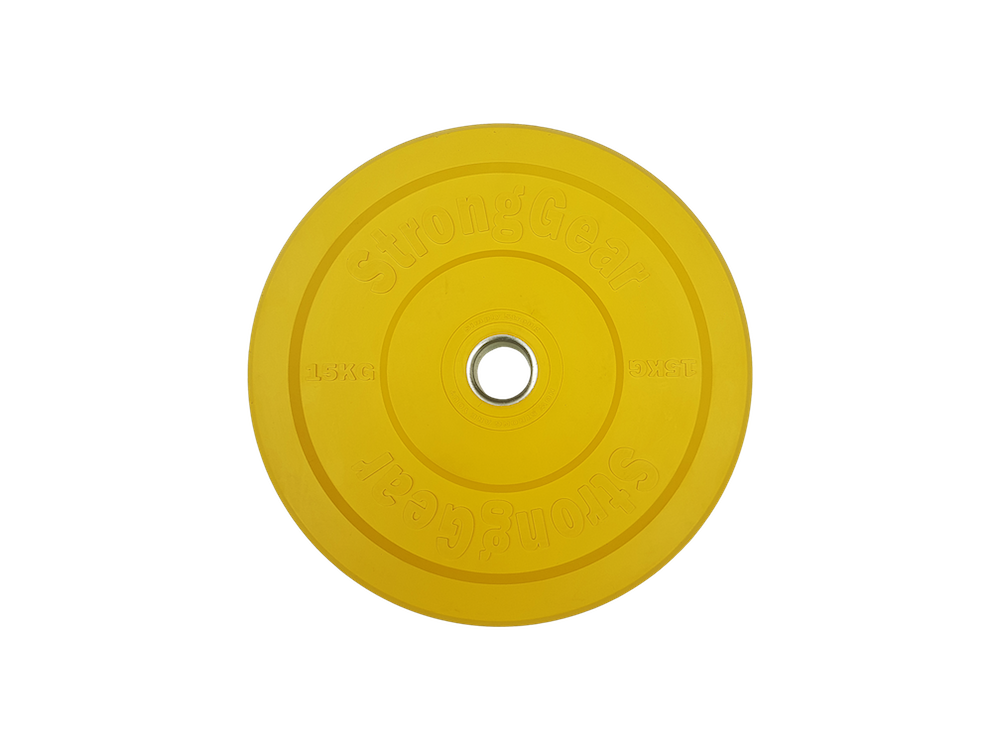 Plates bounce only a bit
StrongGear bumper plates bounce only a little to make the training safer. Our bumper plates are thinner, so you can load even 270 kg or more on the barbell (if you use 25 kg of plates).
Weight tolerance max. 0,5 %
All our plates are perfectly balanced the maximum possible irregulating is 0.5%. You lift exactly the same weight that is marked on the plate.
High quality rubber
Plates are made of top-quality rubber and only the best thickeners. There is no plastic (PVC).
Extremely durable
Our 10, 15, 20 and 25 kg plates are tested for 30 000 drops and 5 kg plates endure minimally 5 000 landings. This is something other plates can't do.
100% Satisfaction Guarantee
You can return for FREE all goods until 30 days without giving reason. This means that we pick up the goods that you want to return at your place for free and return the money to your account within 3 days after returning the goods. You need only to write an email to info@stronggear.eu or call +420 777 670 947. The goods must be properly packed to avoid any damage during transportation and must in the same condition. We are not a rental. The guarantee is there for trying the equipment, not for its repeated use.
Parameter
| | |
| --- | --- |
| Farbe | 5 kg - grey, 10 kg - green, 15 kg - yellow, 20 kg - blue, 25 kg - red |
| Price information | The price includes one piece of plate. |
| Material | Steel ring - the highest quality rubber |
| Mechanically calibrated | Yes |
| Plate diameter | 5 kg - 45 cm, 10 kg - 45 cm, 15 kg - 45 cm, 20 kg - 45 cm, 25 kg - 45 cm |
| Hole diameter | Olympic 50 mm (50,4 mm) |
| Plate Width | 5 kg - 27 mm, 10 kg - 46 mm, 15 kg - 60 mm, 20 kg - 71 mm, 25 kg - 80 mm |
| Plate type | For training |
| Gewicht | 5 kg, 10 kg, 15 kg, 20 kg, 25 kg |